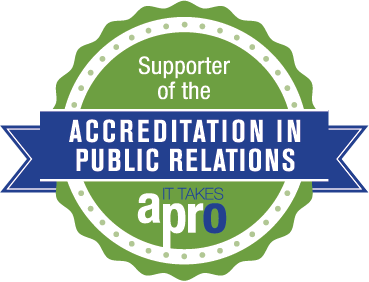 Be an Industry Leader: Earn Your APR
Internationally recognized, the Accreditation in Public Relations (APR) integrates timeless communications principles with contemporary strategies and tactics.
The process of earning your APR takes your skills to the next level by exposing you to today's cutting‐edge strategies and practices, assessing your skills to identify strengths and opportunities for growth, and demonstrating your personal and professional commitment to excellence.
Pursuing the APR gives you direct access to top public relations leaders—APR holders who will guide you through the process of achieving the Accreditation—and provides the tools you need to distinguish yourself as a luminary in the public relations field.
Learn more and earn your APR today at http://www.praccreditation.org/apply/.
---
ACCREDITED MEMBERS
PRAM members who hold the Accredited in Public Relations credential:
Kristie Aylett, APR, Fellow PRSA
Kimberly Aguillard, APR
Erin Barham, APR
Ron Barnes, APR
Sandi Beason, APR
Jim Beaugez, APR
Caron Blanton, APR
Julie Boles, APR
Alana Bowman, APR
Nicole Bradshaw, APR
Kurt Brautigam, APR
Celeste Cade, APR
Susan Christensen, APR
Shannon Coker, APR
Kim Collins, APR
Jean Cook, APR
Mary Cracchiolo-Spain, APR
Liz Densmore, APR
Christen Duhe, APR
Sonya Edwards, APR
Judy Ferguson, APR
John Forde, Ph.D, APR, Fellow PRSA
Daniel Forde, APR
Lorri Freeman, APR
Erin Garrett, APR
Diane Godwin, APR
Patrice Guilfoyle, APR
Vicki Harper-Blake, APR
Lisa Hathorn, APR
Mara Hartmann, APR
Jasmine Haynes, APR
Checky Herrington, APR, Fellow PRSA
Elaina Jackson, APR
April Lollar, APR
Samantha McCain, APR
Laura McPhail, APR
Lil McKinnon-Hicks, APR
Christian Patterson, APR
Kara Paulk, APR
Douglas Perret Star, Ph.D., APR
Wendy Polk, APR
Wendy Powell, APR
Donna Ritchey, APR
Kathryn Rodenmeyer, APR
Kassi Rushing, APR
Shirley Walker Rutland, APR
Charmaine Williams Schmermund, APR
Philip Shirley, APR
Lisa Shoemaker, APR
Meagan Shurden, APR
Sheila Skipper, APR
Yvonne Sorge, APR
Leighton Spann, APR
Karen Stanley, APR
Lea Ivey Stone, APR
Robin Street, APR
Mary Margaret Turner, APR
Patti Wade, APR
Matt Westerfield, APR
Macaulay Whitaker, APR
Tracy Yanez, APR
RESOURCES
Whether you are a candidate for APR, APR+M or the Certificate in Principles of Public Relations, the following resources can help you achieve your goal. NOTE: All links referred to below will take you off the PRAM website and over to the accreditation site. 
APR Candidates
APR+M Candidates
Certificate in Principles of Public Relations