The Public Relations Association of Mississippi honored the achievements of Mississippi's best public relations professionals and students during their annual awards ceremony last week. The awards recognize outstanding work by Mississippians in the field of public relations and celebrate select individuals for their contributions to the profession.
Christie Lawrence, President of Surge Advisors and past president of the Starkville-MSU Chapter is the 2023 PRAM Professional Achievement Award winner, the state's top honor recognizing excellence in public relations. The panel of accredited PR professionals from PRSA of Maryland of the Public Relations Society of America tasked with selecting the winner had this to say about this year's honoree:
"She has achieved a successful career in public relations. Her commitment to the profession shines through in her dedication to lifelong learning."

"Her list of accomplishments and achievements is vast, seconded only by her list of services she has provided. "

"Her work examples show the depth of her career and a clear understanding of the RPIE process."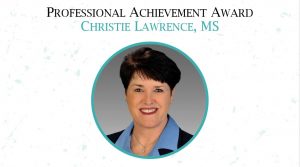 Presented annually to a PRAM member whose accomplishments have significantly contributed to the profession, the PRAM PAA recipient embodies the highest degree of professionalism, serves their community, commits to advancing the profession and has outstanding achievements in the practice of public relations.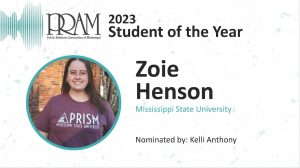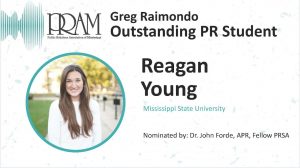 In addition to recognizing industry professionals, two students were honored for their notable college careers. Zoie Henson from Mississippi State University was named the 2023 PRAM Student of the Year, presented by CSpire, and Reagan Young from Mississippi State University was named the 2023 Gregory Raimondo Outstanding Public Relations Student Award winner, presented by the PRAM River City chapter.
Practitioners and organizations were also recognized with PRism Awards for their individual public relations campaigns and tactics in 2022. Memorial Health Systems was awarded the Best in Show award for their "This is Our Promise Campaign." The Best of Tier Three:  Tactical Materials and Projects honoree was Jackson Academy with their "You Can Soar," video.  The state's best short-term campaign came from Sanderson Farms', "Women In Agriculture Campaign" project.
The PRism Awards program allows PRAM members to receive an unbiased evaluation of their work in various categories from campaigns to individual tactics. Award-winning entries are scored on their own merits, demonstrating knowledge and application of the four-step PR process, which emphasizes research, planning, implementation and evaluation. In total, 29 projects were recognized by PRAM for their outstanding work in 2022.
The Mississippi Department of Environmental Quality, Visit Ridgeland, Tupelo Convention and Visitor's Bureau and the Community Foundation for Mississippi each earned PRism Awards, placing them in the top 10 percent of projects as judged by the outside panel of PR professionals.
For a full list of PRism award winners, click here: 2023 PRism Winners List.
About the Public Relations Association of Mississippi
Representing more than 600 of Mississippi's leading public relations and communications professionals, PRAM supports a wide network of advertising and public relations agencies, corporations, non-profit organizations, government, education, industries and provides professional development opportunities aimed at enhancing and growing individual skill sets, contributing to the expanding science of public relations policies and practices.
PRAM is a non-profit organization and is an autonomous affiliate of the Southern Public Relations Federation, linking more than 1,400 public relations professionals from Alabama, north Florida, Louisiana and Mississippi. SPRF, along with eight other regional and national public relations organizations, is a participating member of the Universal Accreditation Board, the national body which administers the Accreditation in Public Relations mark.
For more information, visit pramonline.org.