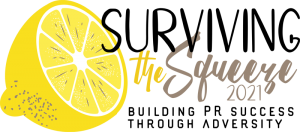 At the Public Relations Association of Mississippi, we know life's greatest moments are a mix of adversity, challenge and overcoming the odds. As we celebrate our accomplishments from a challenging year, you can be sure we're sharing our recipe for success for our 2021 conference.
Conference Registration:
Early Registration

Open March 30- April 14
$70 for PRAM members
$85 for non-members

Regular Registration

Open April 15- May 5
$90 for PRAM members
$105 for non-members

Late Registration

Open May 6-12
$110 for PRAM members
$125 for non-members

Student Registration

Open March 30- May 12
$30 for students
Conference Agenda:
Virtual Conference: 8:45 a.m.- 3:15 p.m.
Morning Keynote Speaker: Molly McPherson, APR

Speaker Background: Molly McPherson, M.S., APR is a nationally-recognized expert on crisis public relations management in the age of social media and author of the book, Indestructible Leader: Reclaim Control and Respond with Confidence in a Media Crisis. McPherson combines her knowledge of current communication practices with years of media and crisis management experience to help organizations manage issues – from emerging to a crisis – to ensure organizations surface with their reputation intact. Host of the podcast "Confident Communications with Molly McPherson," she frequently speaks about communication trends, crisis communications, public relations and social media crisis response to executives and organizations. Through her experience in FEMA's Office of External Affairs during post-Hurricane Katrina efforts and as Director of Communications for the Cruise Line International Association in Arlington, Virginia, McPherson created a proven public relations framework for responding to a public backlash both online and in the press.
Session Description: Nowadays, people expect all the information up front. Even before the pandemic turned society into a virtual one, your stakeholders were accustomed to easy access of information. With the increase in organizations using social media to push their content mixed with the availability of information on demand, people want what they want when they want it, and they want it at their fingertips. In the event of a crisis, they expect the same – answers. Not only this but, this demand will only increase in time. Organizations must have the framework to communicate positive stories, emerging issues and, above all, a framework for managing a crisis. That means a change in the way we do business. This session offers a blueprint for finding the right answers that take into account both the responsibility and the strengths of the organization. By the end, participants will have an overview of what goes into a crisis response plan, including the language to use in an official response that communicates with full transparency to their external and internal stakeholders while also mitigating risks.
PRism, Professional Achievement Award and Student of the Year Awards Ceremony: 3:30 p.m.
Conference Sponsors:
Interested in promoting your business or organization to our network of public relations professionals? We have sponsorship opportunities available for our 2021 virtual conference!